The 2015 BFA/Natwest Franchise survey, released in January, revealed that franchising is operating at record levels!
Three key metrics show double-digit percentage growth over the last two years:
Turn-over - £15.1bn
Number of businesses - 44,000+
Number of jobs: 621,000
Behind that growth are the franchisees driving it, and some key trends emerged
In this blog, we look at those trends and some of our own franchisees who fit them:
Young entrepreneurs
Almost one in 5 franchisees (19%) who launched their business in the last 2 years was under 30 years old, up from 14% five years ago.
These driven and committed young people are hungry for business success and understand that the training and support they receive from the franchisor more than makes up for their own lack of experience. They have a network where there are hundreds of years of experience to tap into and leverage.
Our youngest franchisee is just 24. Here is a reprise of a chat with two of our younger entrepreneurs:
Scaling up
Franchisees are increasingly understanding that the franchise route may enable them to scale up more quickly, either by purchasing another franchise territory, a re-sale, or an acquisition.
In 2015, 29% of franchisees involved in the survey ran more than one outlet, up from 21% in 2010.
This trend is echoed at Belvoir where many of our franchisees acquire more than one outlet. Davinder Gharial is a good example of someone who expanded their business within a relatively short time period.
Stepping off the corporate ladder to become a business owner
The entrepreneurial spirit of the U.K. is riding high with more and more people looking to start their own business.
The Times recently reported that employment rose by 55K in the 3 months to June 2016, but only 5K of those are employees. The rest are self-employed.
In 2015, 74% of franchisees questioned in the survey had traded their job for a business. This is up from 52% in 2001.
A good example of someone who made that transition from employee to business owner, is mum of two, Patsy Day, who was featured in our "Women in Franchising" profiles - women becoming franchisees being another trend we are noticing within our own network:



This infographic sums up the key findings of the survey: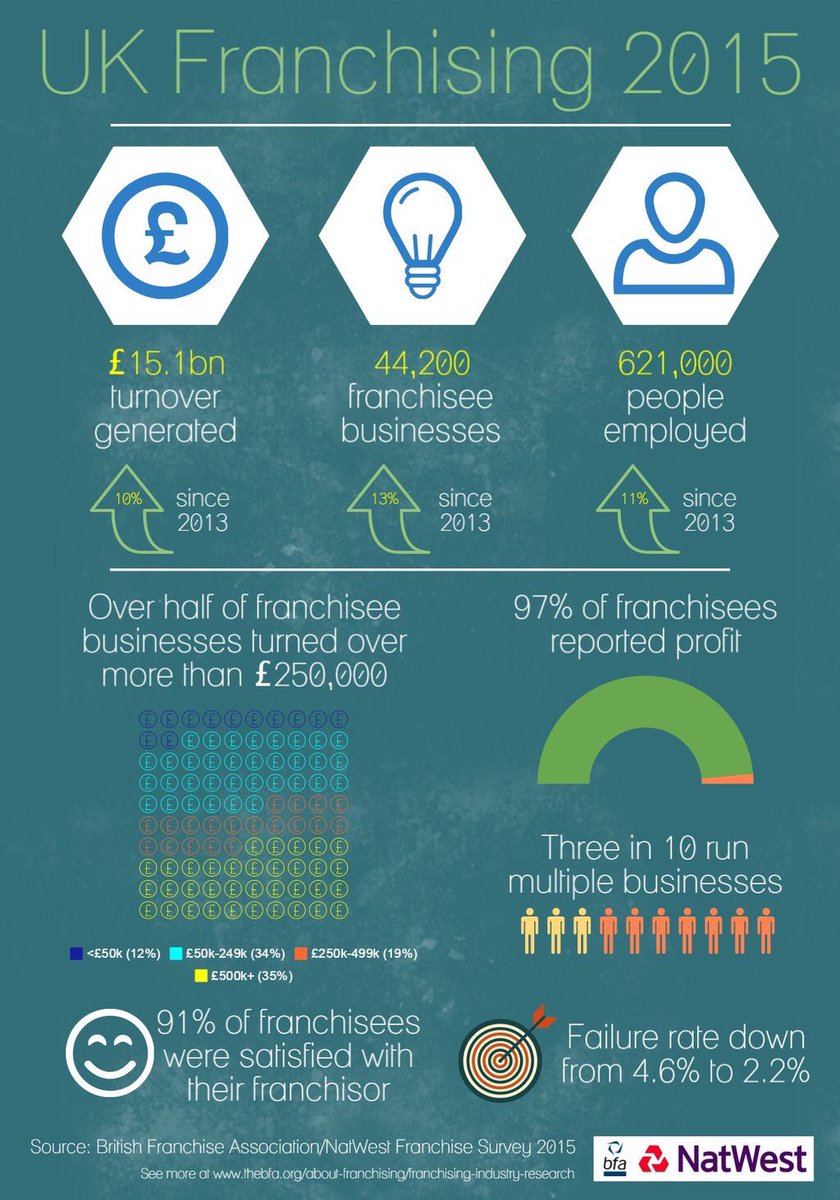 You can also find out more by downloading the Times report, "The Future of Franchising" which was published in March and which features Belvoir.
You can also explore the BFA/Natwest 2015 Franchise Survey.
Ready to take action? The next stage is to book yourself onto a "Discovery Day".
Belvoir is an award-winning estate and lettings agency with over 200 successful offices around the U.K. If you would like to talk about being our next success story, please call us on 01476 570000 or email us on franchising@belvoir.co.uk
If you liked this, you may also like...
> BELVOIR OFFICIALLY THE UK'S LARGEST PROPERTY FRANCHISE GROUP!
> INTRODUCING THE NEW HEAD OF FRANCHISE RECRUITMENT